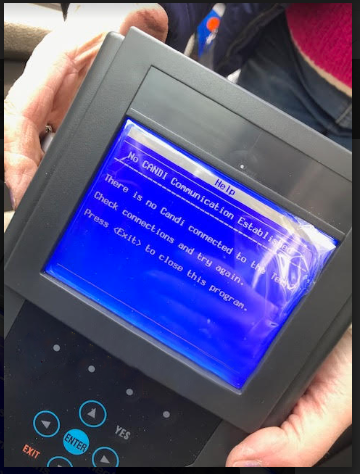 Used GM Tech 2 Scanner to diagnose Saab, Tech2 can't find CANDI module, have error message: "NO CANDI Communication Established".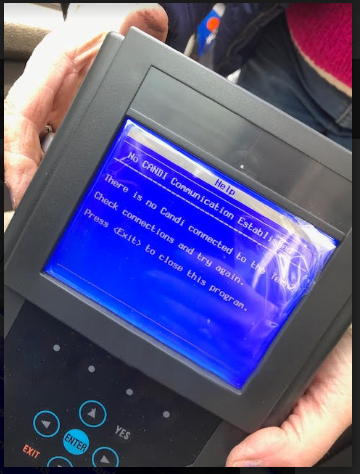 The solution:
Confirm you plugged the Candi adapter into the car and the Tech 2 before powering up.
Disconnect the connector leaving the CANDI adapter going to the OBD port. Plug it back in and ensure it's real snug, then plug it into the OBD port. I needs to do this every now and then with my clone one. Usually it works after. Suspect the pins aren't making the best contact.
Tech support from professionals:
With the car ignition off, connect the GM Tech2 and CANdi module.Power up the Tech.
You'll get 12V from the DLC (now it takes me a half hour to find the "DLC means" Data Link Connector "and is what we also call the OBD2 connector, so be prepared to be stumped by TLA's (Three Letter Acronyms)
At the main menu press F3-tool options
At the tool options screen select F9, CANdi Diagnostics
There are two tests on the next screen, run them both. The CANDI should talk to your 2004+ car
Either turn the ignition key of the car, or start it (for a C6 there is not an "on").
Select the EXIT button until the Tech 2 goes back to the main menu.
Select F0, Diagnostics.
Ensure you want to look at the module. You may be choosing body style; You may need the body code (sometimes the third character in the VIN) You may also be asked about certain options, like ZL6. They are on a tag in the glovebox.
After that you will be able to play with the Tech2 clone.
IMPORTANT: Sometimes, it's just problem with candi, as when using on other cars without candi, it's just perfect. So you should have a good candi such as . It's just better, but still needs to connect a few times. So you can buy another card 148. If not totally solved, rewrite the card to 143 and 136. Both work fine. That is, 148 is no good for candi. Could be corrupted software, or the card problem. These cards coming together with Tech 2 are not good sometimes. You'd better but china knock-offs from a man of his word to trust in. www.obd2tool.com customer service is such a man.