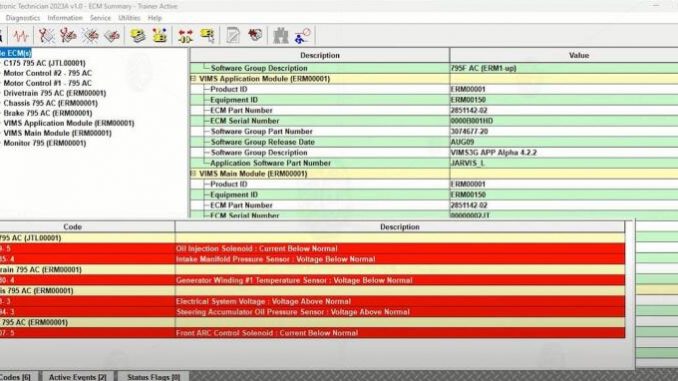 Read More:
Cold Mode and No Engine Speed on Status Flags Caterpillar ET Software
Create Product Status Report (Download List) on Caterpillar ET Software
Diagnostic Codes on Caterpillar ET Software
-If a SHUTDOWN is active, Injection Disabled will appear on Status Flags CAT Caterpillar ET.
-An engine shutdown event will appear on a CAN J1939 device if the device is capable of displaying Diagnostic Codes.
#Possible Causes:
1). Engine Overspeed Shutdown
-The operator may be operating the engine incorrectly.
-The "Engine Overspeed" parameter may be incorrectly programmed for the application, use Caterpillar ET to view the parameter setting for Engine Overspeed.
Read More: How to Setting or Testing the Engine Overspeed using Heavy Duty Diagnostic Caterpillar ET?
2). 75% Overspeed Verify Switch
-Faulty on wiring, switches, or connectors.
-Check the 75% Overspeed Verify Switch (If installed), it will sending "Ground Signal" to the ECM while activated.
-ECM pin 54 (C-15 Engine)
3). Low Engine Coolant Level Shutdown
-The engine has been running for one minute and the coolant level is not being detected by the Coolant Level Sensor.
-Check the Engine Coolant Level (If installed).
-Check on Caterpillar ET, "Status – Configuration Tool" for "Coolant Level Sensor" (Installed or Not Installed), and Settings on Monitoring System – "Low Coolant Level".
-ECM pin 49 (C-15 Engine)
4). Remote Shutdown Switch
-Check for additional "Remote Shutdown Switch" on the Engine Sensor Shutdown System (If installed).
-ECM pin 44 (C-15 Engine)