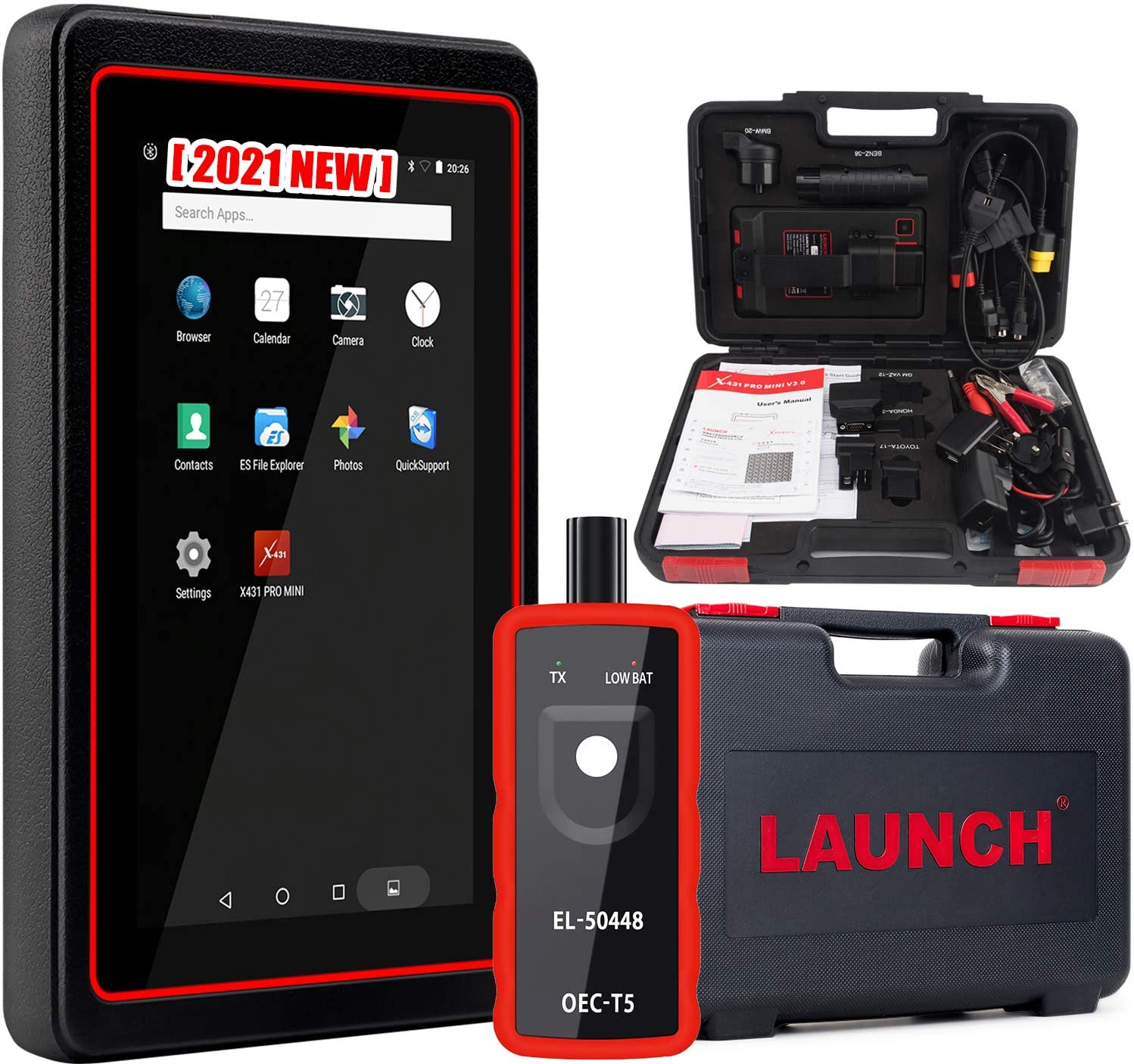 Launch is one of the best companies for producing some of the best diagnostic scan tools, and has been creating entry-level to mid-range scan tools since 1992. Here, we shall be discussing why the Launch X431 pro mini is a suitable scanner for any mechanic or car repair shop and the ways in which it can improve the maintenance of your cars.
The Launch Pro X431 is a stylish, Android-powered scan tool that is easy to use with its simple Bluetooth connector and wireless connectivity. Its compatibility with a variety of OBD1 vehicles and a number of OBD2 vehicle brands makes it the best scanner for any technician.
The Pro Mini has the ability to read and clear error codes, perform important reset functions like the oil reset service, battery maintenance, and many other crucial functions you would want in a car scanning tool. With its sturdy carry case, lightweight design, language features and long battery life, this X431 is easy to use for any vehicle technician. Continue reading this Launch X431 review article to see why this advanced scan tool is the ideal diagnostic tablet that will work you.
Product Overview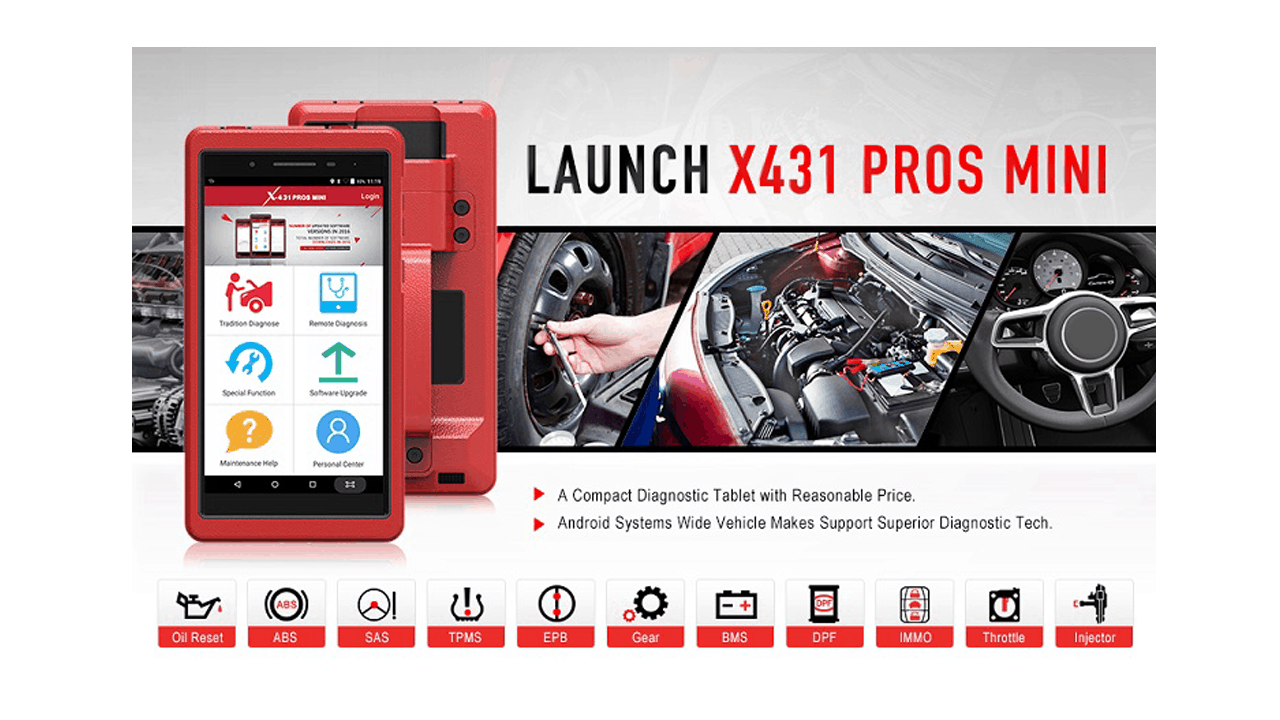 Below is a quick overview on all the great services the X431 is able to offer you, whilst also letting you know difficulties some of the users faced.
Pros:
•  Wide-range of functions – the X431 Pro Mini is able to perform many different crucial reset service functions and relearn functions (like oil reset, SAS, ABS, and more) whilst also maintaining anti-theft matching and bi-directionality
•  Easy to use – lightweight, with a clear LCD colour touchscreen, which provides a menu in many languages of your choice
•  Compatibility – is compatible with many different American, European and Asian car models from 1996 or newer
•  Live Data – comes with Bluetooth and Wi-Fi connectivity
•  Diagnostics – performs all system diagnosis
Cons:
•  Customer Service
•  Registration difficulties
Compatibility
The Launch X431 Pro Mini is the ideal car scanner for car owners because of its compatibility with car models and makes. Here is a list with just some of 108 different American, European and Asian car brands the X431 is compatible with.
•  Acura, Audi, Benz, BMW, Chrysler, Citroen, Ford, Honda, Jeep Mazda, Mercedes, Nissan, Porsche, Skoda, Toyota, plus many more.
Either check on the Launch website or simply call the support team to see if the Launch X431 Pro Mini is compatible with the make of your vehicle.
Functionality
The Launch X431 Pro Mini is able to perform a wide variety of special functions to keep the maintenance of your vehicle speedy, accurate and efficient. Whether you are looking for an easy-to-use diagnostic tool to perform basic functions such as reading and erasing fault codes, or looking for a more advanced scan tool to perform more special functions such as oil, Airbag and Brake Parking System (ABS) bleeding, SAS, IPS, TPMS, then this is the scan tool for you. Here is a list of the key functions that the Launch X431 Pro Mini is able to perform:
•  Steering Angle Sensor Reset (SAS)
•  Airbag and Brake (ABS)
•  YES ABS bleeding
•  YES reading and clearing code function
•  TPMS
•  Parking brake Reset
•  Diesel particulate filter (DPF) reset/relearn
•  ECU Coding
•  Injector Coding
•  Battery register/maintenance
The X431 Pro Mini's bi-directional function is crucial to have in any scan tool. A scan device that only offers single directional function can only report fault codes and other anomalies with the vehicle. A bi-directional scanner, such as the X431 Pro Mini, also reports trouble codes and anomalies from the ECU. It can then send commands to the car to activate different systems to enable testing. The test is quick and precise and does not give you long to wait before seeing results.
The X431 also comes with a camera so you are able to take pictures if needed to get advice on a particular problem with your vehicle.
Key Features
Anti-theft matching
The Anti-Theft function of the Launch X431 Pro Mini prevents your car from being stolen. It is able to prevent the chance of theft by clearing the data of lost keys and programming new keys into the ECU coding database. The Launch X431 also features the IMMO function which will enhance the security of your vehicle.
Easy to use
The Launch X431 Pro Mini has a clear LCD color screen, for clear display and easy access to its many functions. The menu is displayed clearly on the capacitive touch screen. The unit allows for easy and clear navigation to ensure that you get the most out of this device with little trouble.
•  It has a 6.9 ultra-high resolution IPS touchscreen and an eight hour battery life to ensure technicians can get maximum usage out of this scanning device.
•  It is a lightweight scan tool, weighing in at 3.44kg, making it a similar weight to your smartphone.
The X431 Pro Mini is a diagnostic tool that can be operated in many languages:
•  English, Arabic,Polish, German, Russian, French, Finnish, Dutch, Czech, Portuguese, Spanish, Hungarian, Italian, Japanese, Swedish, Turkish, Greek, Denish, Korea.
This Pro Mini is also one of the sturdiest and most durable scan tool designs on the market. It is drop-resistant, waterproof whilst maintaining a sleek and stylish appearance. In appearance, it is similar to your smartphone and so can easily fit in the palm of your hand, or your pocket.
•  It is portable and comes with a sturdy carry case. If you are a vehicle technician who travels around, then this car scanner is the best tool for you.
Storage and battery power
The Launch X431 Pro Mini comes with an SD card for maximum storage capacity, and a long battery life to ensure you get the most out of your diagnostic scan tool. Its eight hour battery life ensures efficient and long-term usage for any mechanic.
Live data
This scan tool comes with a reliable Bluetooth dongle to display data and allows the scan tool to work at a distance from the car. The X431 Pro mini is able to connect to Wi-Fi which enables you to work wirelessly, whether that be in the car or the garage and also allows you to access your Launch account easily. The X431's ability to view live data stream means analysis and diagnosis of issues with your cars will be speedy and efficient.
The X431 Pro Mini can be used without a Wi-Fi connection. An internet connection is only needed for registration and updates.
Printing results – if you decided that you would like to print the results of a diagnostic scan, you would have to first purchase a printer manufactured by Launch separately. Then, simply press the print icon clearly marked on the menu.
Diagnostics
The Launch X431 Pro Mini scan tool performs a range of diagnostics to ensure efficiency with the maintenance of your car. System diagnosis is performed efficiently and effectively as the device can be linked to the Android 5.1 operating system. This device is able to conduct full system diagnosis, such as transmission, power train, engine, emission and more. With such a wide range of system coverage, there will be no need to purchase an additional scan tool on top of the Launch X431Pro Mini to help you perform diagnostics.
Technical Specifications
•  Operating system – 5.1 Android
•  ECU – ARM Coretex-A7 quad-core , 1.3GHZ
•  Storage temperature – -20℃-70℃
•  Working temperature – 0℃-45℃
•  Bluetooth – Yes
•  Check Engine Light – Yes
•  Dimensions – 15.9 x 11.9 x 4.2 inches
Wide Vehicle Coverage
The X431's wide vehicle coverage is one great feature of this unit. The Launch X431 Pro Mini is compatible with over 150 European, Asian and American car brands on 12V EFI models, making this car scan tool suitable for all car technicians. It is compatible with car brands such as BMW, Audi, Chevy, Lincoln, Opel, Subaru, Porsche and many more.
2 Years Free Update
This product comes with a 2 year free update, and even after the 2 year period is over you are still able to use it. After the 2 years, you will have to pay for an update, which can be checked on the Launch website or with the Launch support team. The X431 also has a 1 year warranty, so if you do find issues with your device, it can easily be repaired or replaced.
Updating your device is very simple, as it can be done online by connecting your X431 wirelessly to the internet.
Intuitive user interface
Icons are clear and the menu is easy to navigate. Its 6.8 inch touch screen will leave you with no trouble interpreting the results on this device. Its 5.1 Android operating system ensures the user will be able to navigate and operate this device with speed and accuracy.
The Verdict
The Launch X431 Pro Mini is the best car scan tool for all mechanics and car repair shops. It's Android 5.1 operating system ensures speedy diagnosis, with internet connection allowing for quick contact with the online support team if you are met with any issues whilst using your X431 Pro Mini.
Things to be aware of:
The Launch X431 Pro Mini is quite an advanced vehicle scan tool and might not be the most appropriate gadget for a beginner or DIYers.
It is important to note that this Launch X431 Pro Mini also comes with 2 years free update on software. This 2 years guarantee of software update can be done online by connecting your device to Wi-Fi. However, after two years, you will need to pay for the software update. Contact the Launch support team or check online to check the update cost after two years.
Some users have complained about this scan tool being cumbersome to use for beginner car technicians, or just for DIY. It requires to user to register the gadget using an activation code in order to begin using it, which can be time-consuming and frustrating as you cannot use the scan tool directly out of the box. For startup mechanics, you might wish to consider another device that is easier to use.
The Launch X431 also does not support mileage correction.
If you are facing car issues with your X431 Pro Mini, do not hesitate to contact Launch. Launch has excellent tech support, and you can simply send them a one-click video recording of the problems you are facing. You will get the support you need quickly and efficiently.
Overall
In conclusion, the Launch X431 Pro Mini is a sturdy scan tool appropriate for mechanics and technicians anywhere. It has great compatibility with many car brands from America, Asia and Europe, meaning you will not have to buy another scan tool to help diagnose issues with your particular car model. Its two years free software updates is something you can rely on, and its impressive functionality will help you maintain vehicles with speed and accuracy. The one year warranty also ensures that if you do find problems with the product, it can easily be replaced or repaired.
We are most impressed with its wireless connectivity, sturdiness and lightweight design similar tablets you are familiar with in everyday life. You will find this device easy to navigate, highly functional and vital for mechanics everywhere.
Thank you for reading the review of the X431 so far. Below are some frequently asked questions that may be helpful.
FAQs
Is the Launch X431 Pro Mini any good?
The Launch X431 Pro Mini is an excellent scanner for mechanics who are looking for a diagnostic scan tool that can perform diagnostics quickly and efficiently at a great value for money. With its bi-directional capabilities, 2 years free update, high compatibility, wide-ranging functions (e.g ABS, SRS) and easy-to-use operating system, this is the scan tool for you. This particular device is best suited for experienced technicians of vehicles who are looking for a way to maintain a number of cars with speed, accuracy and efficiency.
How do I avoid counterfeit products?
The best way to avoid purchasing a couterfeit X431 is to buy the Launch X431 Pro Mini directly from Cnautotool. Cnautotool is selling the original X431 Launch product. You can also order directly from the Launch website.
Which is better: Launch VS Autel?
Autel and Launch are two of the best OBD2 scan tool brands on the market. Autel produces good-quality, cost-effective and easy to use diagnostic tools with a wider variety of products. On the other hand , Launch produces efficient, speedy and accurate OEM-level diagnostic and repair tools. Launch OBD2 scanners ensure high performance at a cost-effective rate. It is up to you to decide which product best suits your needs.
What can the Launch X431 Pro Mini do?
The Launch X431 Pro Mini can perform full system diagnosis such as transmission, power engine, etc. It has a range of functions that make this easy-to-use diagnostic scan tool the best for any vehicle mechanic to maintain a number of cars quickly and effectively. Its wireless connectivity allows its user to use the one-click update online via Wi-Fi, which is free for the first 2 years. It can form the more basic functions for you, but also more high-level tasks such as ECU and Injector Coding, a variety of crucial reset and relearn functions, and much more.
Is the Launch X431 bi-directional?
The Launch X431 does have the bi-directional feature. It can report issue codes from the ECU, can send commands to the car and then enable quick and efficient testing.
What is the best diagnostic scanner?
Launch and Autel both produce high-end scanners, but the Launch X431 is very suitable for a variety of needs for any vehicle technician. Its bi-directional functions, and anti-theft matching are not found on all OBD2 scanners and thus makes the X431 Pro Mini especially useful. It provides an excellent reset service, and its special functions ensures that the X431 contains all you will need in a diagnostic scanner. It's one-click update online means the X431 Pro Mini is simple and no-fuss when it comes to updating.
Can I use the X431 code reader to diagnose OBD1 vehicles?
Yes you can. Please contact the Launch support team to check whether or not your OBD1 vehicle is supported.
Thank you for reading this Launch X431 Review and we hope we have been helpful. Please let us know what you think of the X431 by leaving a review and if you have any more questions head on over to the Launch website to find out more details about the Pro Mini or feel free to leave any comments you have down below.