AUTEL MaxiDAS DS808 KIT Tablet Diagnostic Tool With Full Adapters Support Injector Coding Key Coding.Autel DS808 Kit includes full adapters and update online free,fully covers Autel DS708.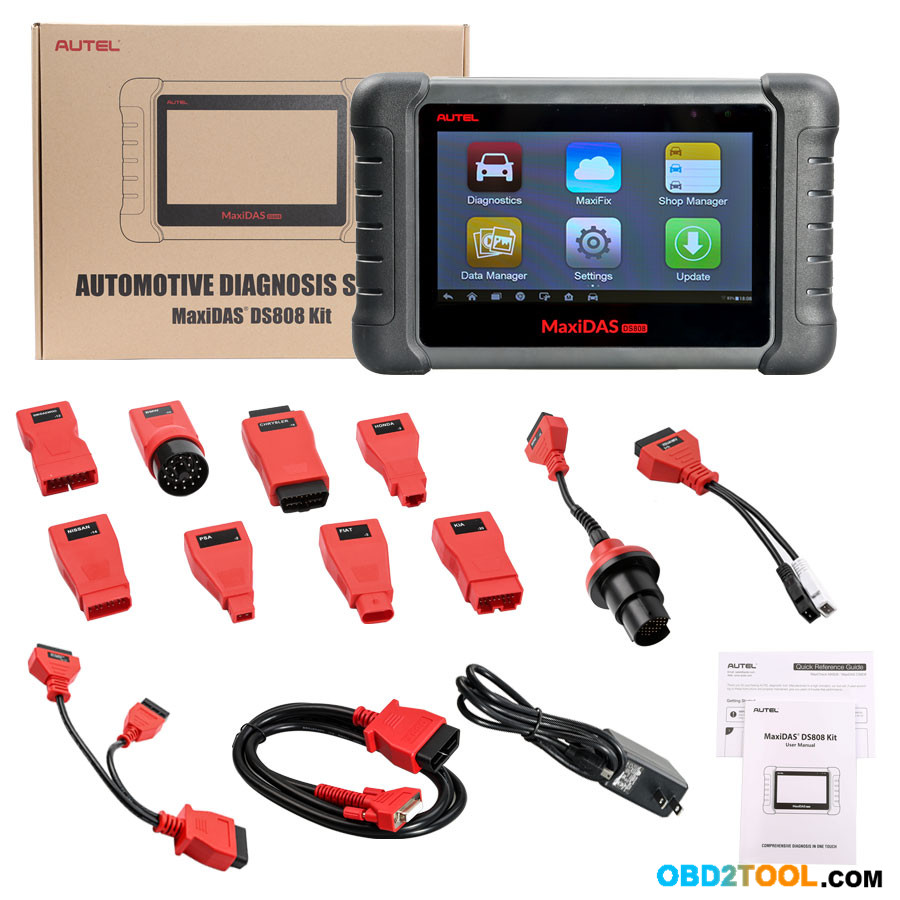 When the Display Tablet device is properly connected to the vehicle, the platform is ready to start vehicle diagnosis. Tap the Diagnostics application button on the MaxiDAS DS808 Job Menu and then the Vehicle Menu displays.
Autel DS808 Advantages:
1.Personalize customization: optional with Car Diagnostic Tool Autel DS808 standard package and Autel DS808 full package
2.Advanced Function: Scanner -> Autel DS808 injector coding, key coding works
3..Advanced Mux specification.
MUX is designed smaller and compact, and easy to take.
4.Support current popular communication method: WIFI and Bluetooth.
Autel DS808 Reviews:
DS708 is the first generation of iconic device for Autel, because of its reasonable price and cost efficient function. I owned one Autel Scanner DS708 for many years, but regret that it will not be updated any more. So I intended to add its new extended version- DS808 for my small repair shop, which can fully meet my requirements. Its new CPU and LCD touch screen, dramatically improved the entire users' experience, much more smooth comparing with DS708. Personally, I would recommend this tool for those small shops with limit budgets. Of course, if money is not a problem, Maxisys Elite may be your good choice.
Actually I'm self-maintainer not a shop guy, I already have Diaglink but need more professional device, which can help me do some features as adaptation or Matching & lots of things. I do like Maxisys Pro MS908P but expensive, so I'm buying DS808, affordable price and good performance.
Compatible to my cars,it seems it is compatible to many US, European'Asian vehicles ,user friendly and has software for different vehicle models and systems. Very handy and has different adapters for the car models, I will use the equipment to scan and diagnose.
Would recommend this product. Worth the money! And Motorzone send me a free headset.Sounds good.