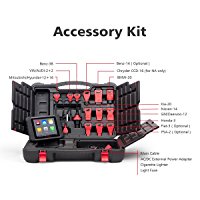 The Autel MaxiSYS MS906 scan system is furnished to repair functions like:
*   Engine RPM
*   Coolant heat level
*   Fuel systems status.
*   Battery voltage readings.
*   Reset systems after extensive analysis and reprogramming key codes
Pros
*   Supports both IOS and Android smartphones.Has 32 GB internal memory to store all your diagnostic records.
*   Long battery life for running the device for long periods of time.
*   8mp camera for taking photographs and uploading online on the Autel forums providing an extensive system of technicians who can solve many problems.
*   Interface that is easy to navigate.
*   Auto VIN technology that can read and store vehicles VIN.
*   A hard-plastic casing that makes the device tough and durable
Cons
*   Only works with a strong WIFI connections
*   Takes a long time to back up the data from the device to a computer
*   It's an expensive scanner
RECOMMENDATION
This Autel Scanner MS906 is designed for professionals and repair shops. It's pricey for use as for as a home device. The scanner can make a diagnosis on as many as ten cars at once. While it's expensive to acquire, it provides a lot of value. It's a time saving multi-functioning scanner for midscale to large repair shops.