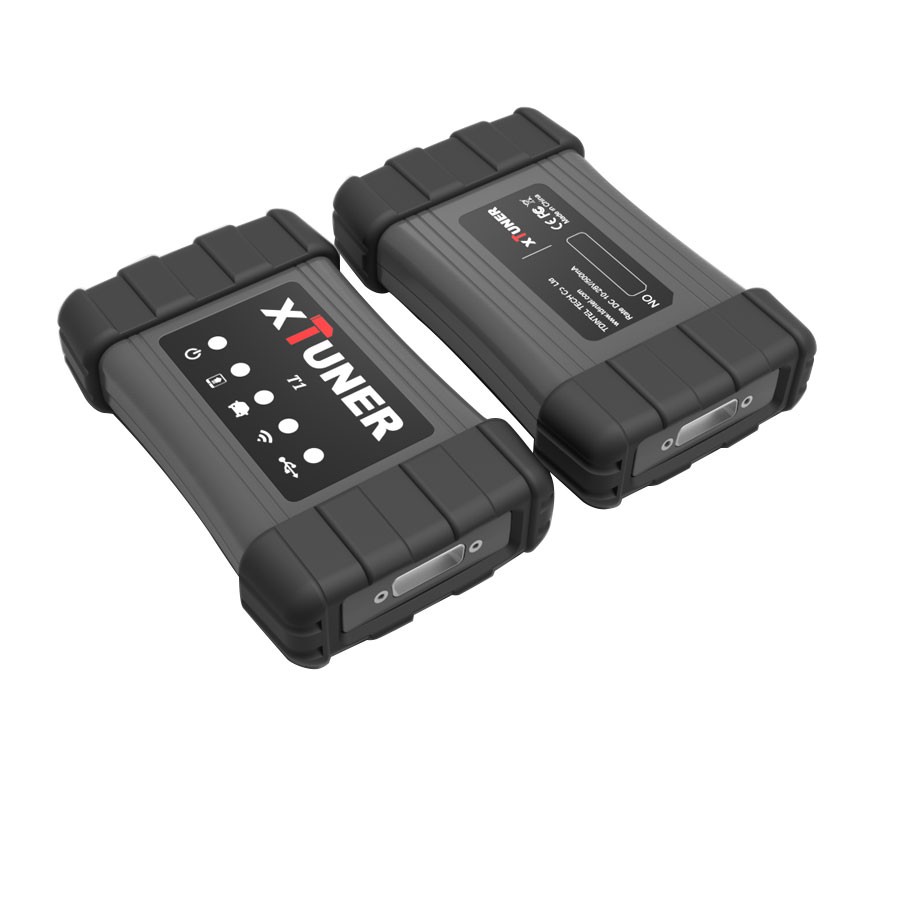 WIFI XTUNER T1 heavy duty truck diagnostic tool supports more than 22 language and multi brand trucks, besides basic function such as Read ECU Info, Read DTCs, Erase DTCs, Clear learning value, Data Stream, Actuations, Read freeze frame data etc, Xtuner T1 supports  resetting, coding and programming as well.
XTUNER T1 Heavy Duty Truck Diagnostic Tool Overview:
● Extensive vehicle coverage for heavy-duty trucks.
● Complete function including DTC, DTC freeze Info, Live data, Actuation test and Special function.
● Support standard protocol J1939, J1708 and J1587.
● Communication: USB or WIFI connection for the VCI.
● XTUNER T1 Update: One years free for IDUTEX product hardware replacement and lifetime maintenance. Software is free updating within 1 year, from the date of online automatically updating.
● Supply OBDII and other 10 connector.
● With brand-new design, the hardware features in stability and anti-interference.
● The built-in overvoltage protection module is able to protect scanner and vehicle against accidental damage during checking.
● Work stably and smoothly in high and low temperature environment..
● Operation System:  Windows XP, Windows 7, Windows 8, Windows 10, which allows for more stable performance, better compatibility and expandability.
What Can XTUNER T1 Do?
Basic Function: Read ECU Info, Read DTCs, Erase DTCs, Clear learning value, Data Stream, Actuations, Read freeze frame data.
Resetting: Basic Reset, Oil change, Cylinder shut off test,Cylinder compression test,Cylinder balancing test, EGR Solenoid Test,EGR Pulse Ratio Test,DPF Manual Forced, DPF Normal Regeneration.
Coding: Control unit adaptations, Injector Codes, Read/Write VIN,Road speed limit optional vehicle speed set.
Programming:  Level calibration, Idle speed learning, Idle speed Adjustment, Camshaft timing control learning, etc.
XTUNER T1 System Coverage
Engine system, Body syetem, SRS system, ABS(anti-lock brake system),Instrument System, Transmission system, Brake control system, Unit pump system, Common Rail System, Electronical control system, Natural gas system, Tail gas after-treatment system, etc.
XTUNER T1 Vehicle Coverage
Diesel: For ASTRA, For BENZ, For BREMACH, For CATERPILLAR, For DAF, For DETROIT, For ERF, For FORD, For FOTON, For FREIGHTLINER, For FUSO, For HINO, For HYUNDAI, For INTERNATIONAL, For ISUZU, For IVECO, For KENWORTH, For KIA, For GM, For MACK, For MAN, For MaxxForce, For NAVISTAR, For RENAULT, For SCANIA, For TOYOTA, For UD, For VOLVO, ect.
Electronic Control System: For ALLISON, For BENDIX, For BOSCH, For CUMMINS, For WABCO.
Standard OBD: Diesel OBD.
How To Install & Use XTUNER T1 Scanner