How-To: Install MB Star Diagnostic SD Connect C4 Xentry 2021-12 on Virtual Machine and change App ID From 253 to 252.
Firstly, a huge thanks to @webmaster, @gcs190, @pesona, @connector, @disinfetor, @cloud9atom, and many others who have helped us learn.
HOW TO: Change Xentry App ID From 253 to 252 and Hide Virtual Machine
WHAT THIS FIXES: "No Access Authorization" on accepted Startkey, or Config Assist not accepting long key or short key StartKeys
*   Go to your virtual image folder
*   open notepad (Windows Key + R, "notepad", enter.)
*   Drag and drop your .vmx file for the image into notepad
*   Add the following line at the end of the file: monitor_control.restrict_backdoor = "true"
*   Save and close
*   Open your Virtual Machine, goto to Xentry Config Assist et voila – your App ID is now 252!. You have prevented Xentry from detecting it is running inside a Virtual Machine
HOW TO: Properly Uninstall Old Versions of Xentry
WHAT THIS FIXES: Too many tools installed that are not compatible with each other. If Everything is a mess and you are unhappy
*  Uninstall Xentry: Remove any old versions of Xentry through the windows uninstaller
*  Clean up any old patches: by deleting Xentryapi.dll and/or Connector64.dll from C:\windows\syswow64 , C:\windows, C:\windows\system32 if exists
*  Clean up registry: Windows+R key, "regedit", enter. Navigate to HKEY_LOCAL_MACHINE\SOFTWARE\Microsoft\Windows NT\CurrentVersion\Windows and delete AppInit_DLLs and LoadAppInit_DLLs keys (they may have pointed to or referenced XentryAPI.dll or Connector64.dll)
*  Clean up the previous keyguard: Navigate to C:\programdata\LicDir and make sure lic_key_2.dat is NOT set to Read-Only (right-click, properties on file). Delete lic_key_2.x4711 if it exists
HOW TO: Installing Xentry XPT 2021-12 in Virtual Machine VM:
WHAT THIS FIXES: Hopefully a Mercedes !!
*  If Not in VM: Disable Secure Boot in Bios
*  If In VM: Modify VMX file as per above instructions (can be done anytime prior to using keygen)
*  Download XPT or Xentry Files
*  Install
*  Run Fullfix v4 by @disinfetor in Administrator Mode (right-click the icon, run as admin)
*  Restart PC
*  Open Config Center, click next until Start Key Screen. Click Copy ID Button
*  Right-click and Run as admin XentryKGdisMod – if given .dll not found error hit ok. Key will appear
*  Go back to Config Center Screen, click manual, then paste using CTRL-V. Hit ok
*  Choose your storage options (Deactivated etc.)
That's it – you should now be able to start without "No Access Authorization", No "2221-45 Error", and No Login Screen all thanks to the work of multiple people on mhhauto forum and the disinfetor package!
Free download FullFix-Xentry-2021-12 v3
https://mega.nz/file/I4ZwGDJY#tcPmtlJmiFFzh8B-1AQvXK9-FI8L71LgN4yW2VYFTa8
These will be applied:
-Remove XDOS Login window
-Xentry missing pictures
-Xentry New Long Key with patch
-license 0 day fix -DAS standalone and sim
-DAS LogStore Fix
-Blacklist Xentry Fix and protector
-Blacklist DAS 870 error fix
-Tools to set Lan & Wireless for SDConnect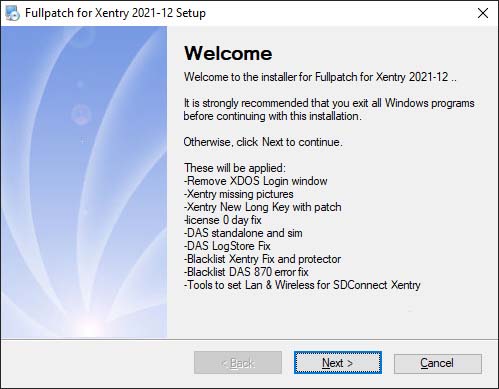 Please dissable antivirus. As it detects false positives.
changelog:
v4: fixed shortcut to the keygen.
v3: new modded xentry keygen with dll-patch and secureboot checker
v2: New modded keygen of xentry. Copy hwid to clipboard and run. The clipboard will be replaced with the key to be pased in xentry.