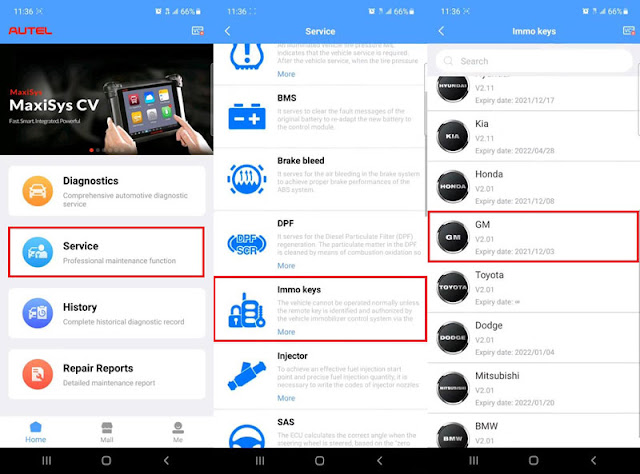 Autel MaxiAP AP200 Scanner can successfully program a new 2019 GMC Sierra remote control via OBD. Quick and easy, it only takes 2 minutes. 2018 GMC Sierra or below will work the same. Below I show the operation procedure.
Here's taking an Autel AP200 for Android phone as a demonstration.
Plug MaxiAP AP200 into OBD, connect to APP via Bluetooth.
Service >> Immo keys >> GM >> Manual selection >> (J)2018 >> Light duty truck, MPV, Incomplete >> GMC >> Sierra >> Hot function >> Body control module >> Add/ replace key fobs >> Erase/ program all key fobs
This procedure is only applicable to vehicles without PRO ATH. Vehicles with ATH need to be programmed by means of Service Programming System(SPS).
This procedure will clear all key fob(s) from the module memory. Prior to starting this procedure, please ensure that all key fobs to be programmed are present.
1. Set in Learn mode by selecting Learn.
2. Select the key fob to be added. Press and hold the Lock & Unlock buttons at the same time. When the fob is added successfully, the parameter will show Learnt.
3. Repeat step2 until each required fob is learned.
4. Exit the procedure after completion.
Notice: Each fob may take 5-8s to program.
Press "Continue".
Select key fob1 position, press "Learn".
Follow step2 to hold and press key button meanwhile.
We can see the key status changes:
Previously learned keys were erased and becomes "Not learned".
Only the selected key was learned.
Done.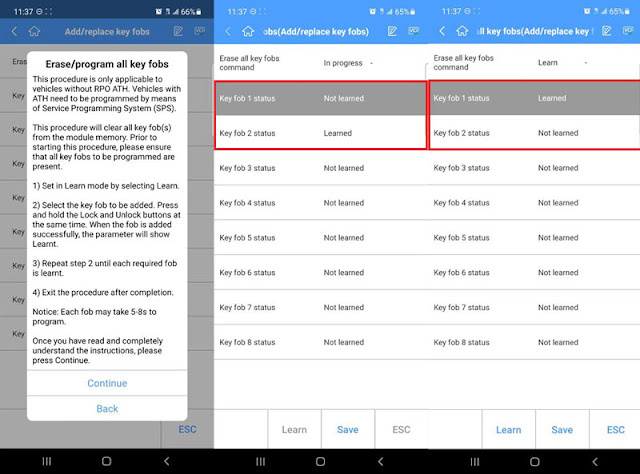 This is how to use AP200 DIY Pocket Scanner to program the 2019 GMC Sierra remote in 2 minutes. For more Autel Code Readers/Code Scanners, take a look at our shop.
More information about autel scanner, please visit https://www.obd2tool.com