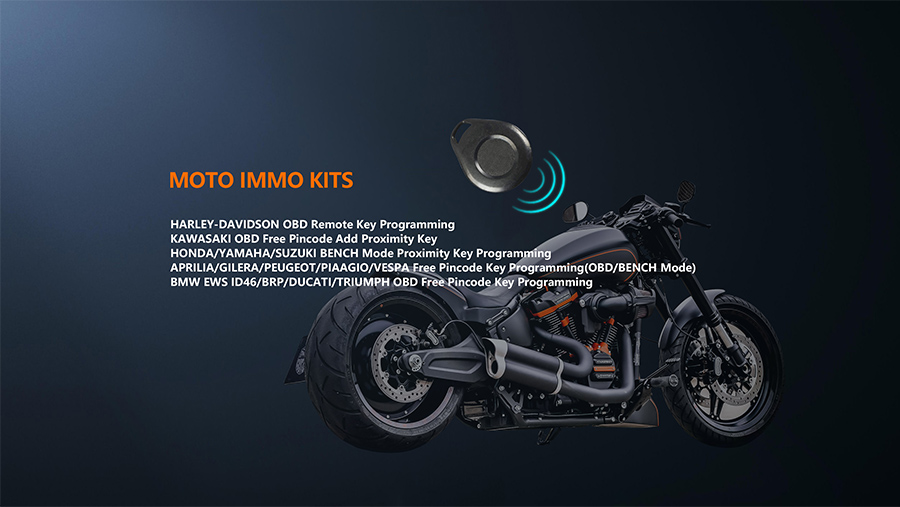 OBDSTAR New released MOTO IMMO Kits, work with OBDSTAR X300 DP PLUS / X300 Pro4/ X300 DP  to do motorcycle key programming. It features in OBD Free Pincode Key Programming, Add Keys, All Keys Lost, OBD / Bench Mode Key Programming.
OBDSTAR MOTO IMMO KITS highlights:
Harley-Davidson OBD remote key programming
Kawasaki OBD free Pincode add proximity key
Honda /Yamaha/Suzuki Bench Mode proximity key programming
Aprilia /Gilera/Peugeot / Piaagio/Vespa free pincode key programming (OBD/Bench mode)
BMW EWS ID46/BRP/Ducati/Triumph OBD free pincode key programming.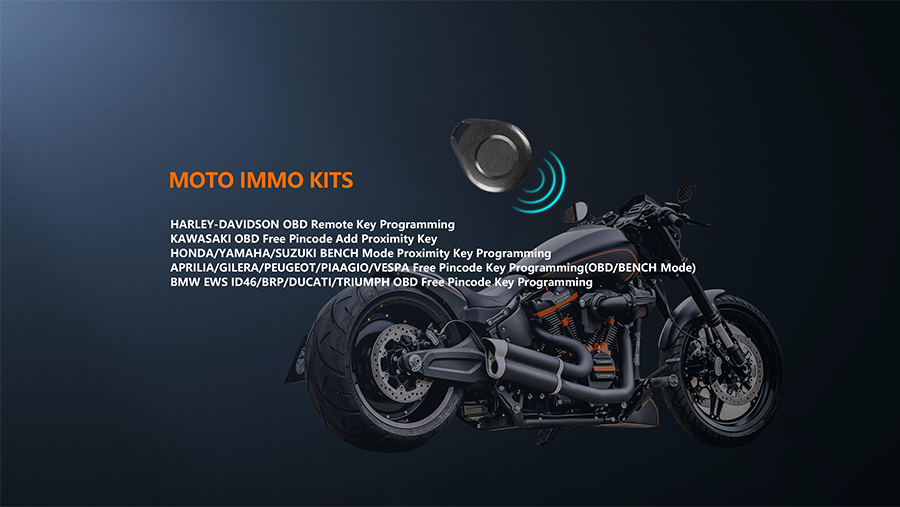 OBDSTAR MOTO IMMO KITS Configuration 1 and Configuration 2 options:
Obdstar Moto IMMO Kits Configuration 1:
M002 cable+ M003A cable+ M004 cable+ M005 cable+ M034 cable+ M037 cable+ M040 cable+ M041 cable+ M043 cable+ M053 cable+ M054 cable+ P002 cable+ TOYOTA AKL cables(TOYOTA-1 cable, TOYOTA-2 cable, 8A multi-functional cable)+ FORD AKL cable+ NISSAN/RENAULT 16+32 cable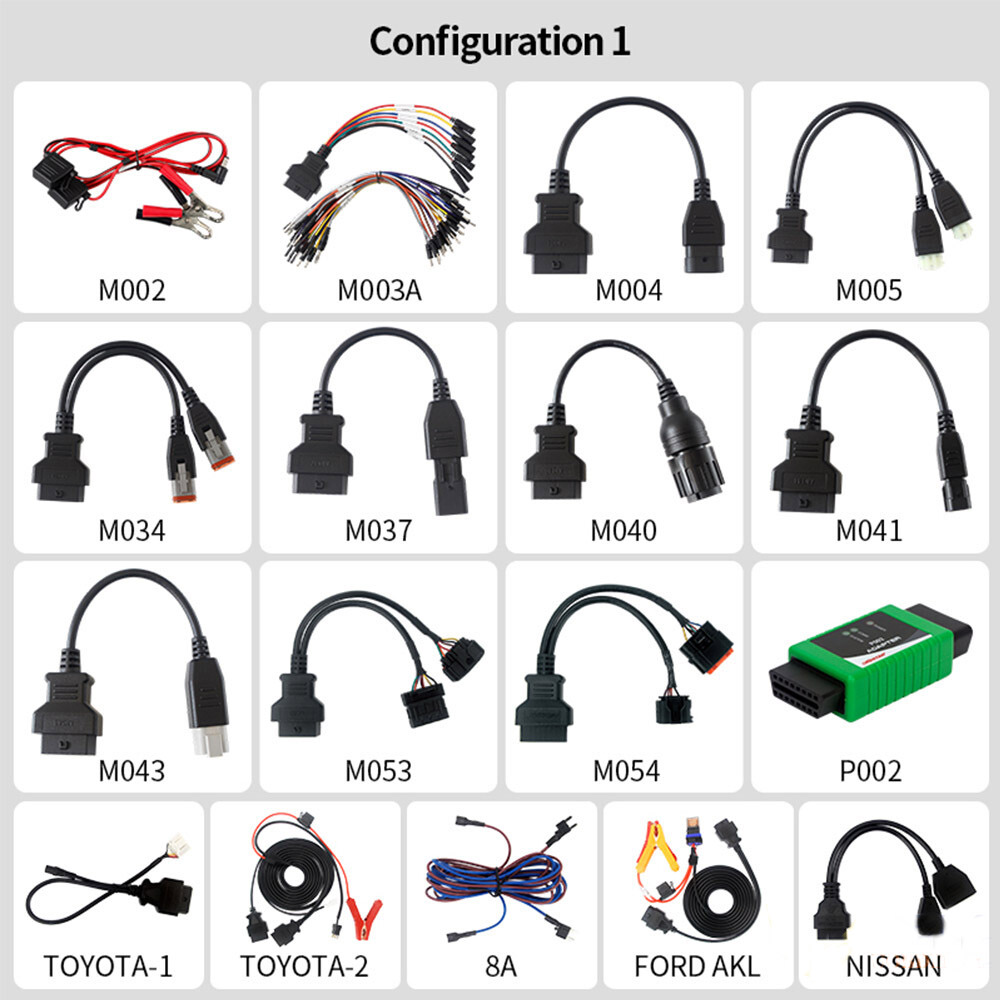 Obdstar Moto IMMO Kits Configuration 2:
M002 cable+ M003A cable+ M004 cable+ M005 cable+ M034 cable+ M037 cable+ M040 cable+ M041 cable+ M043 cable\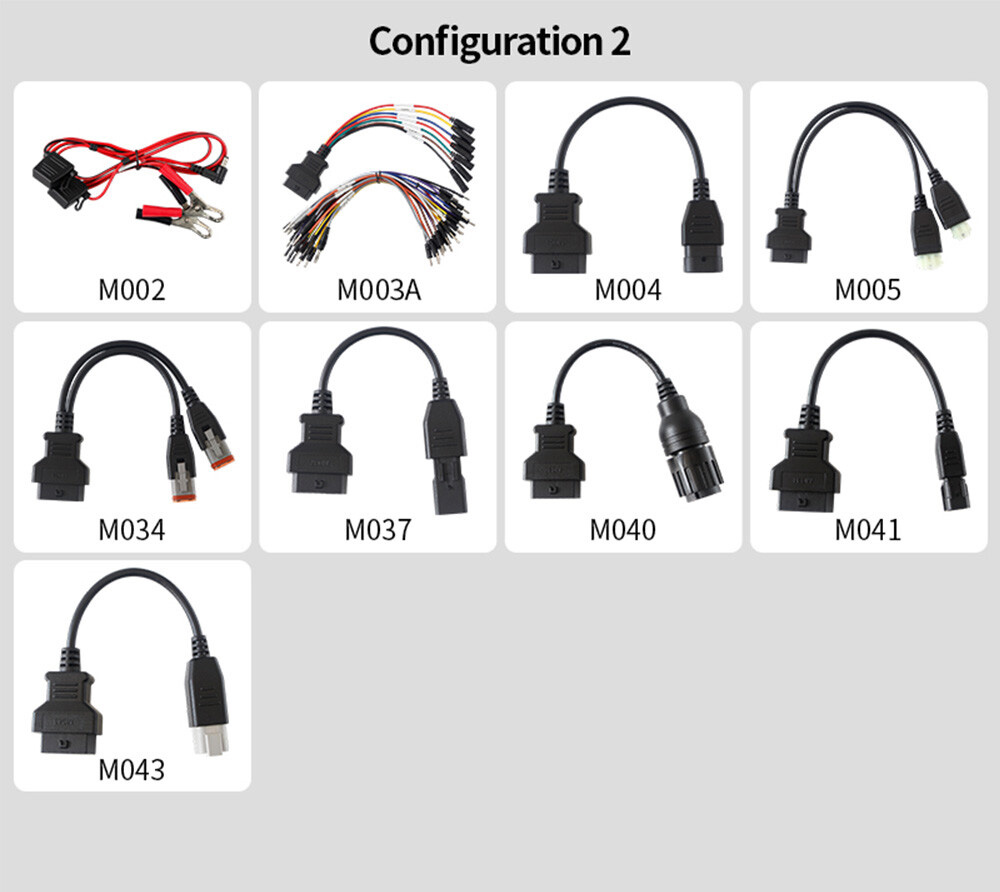 Configuration 1 VS Configuration 2: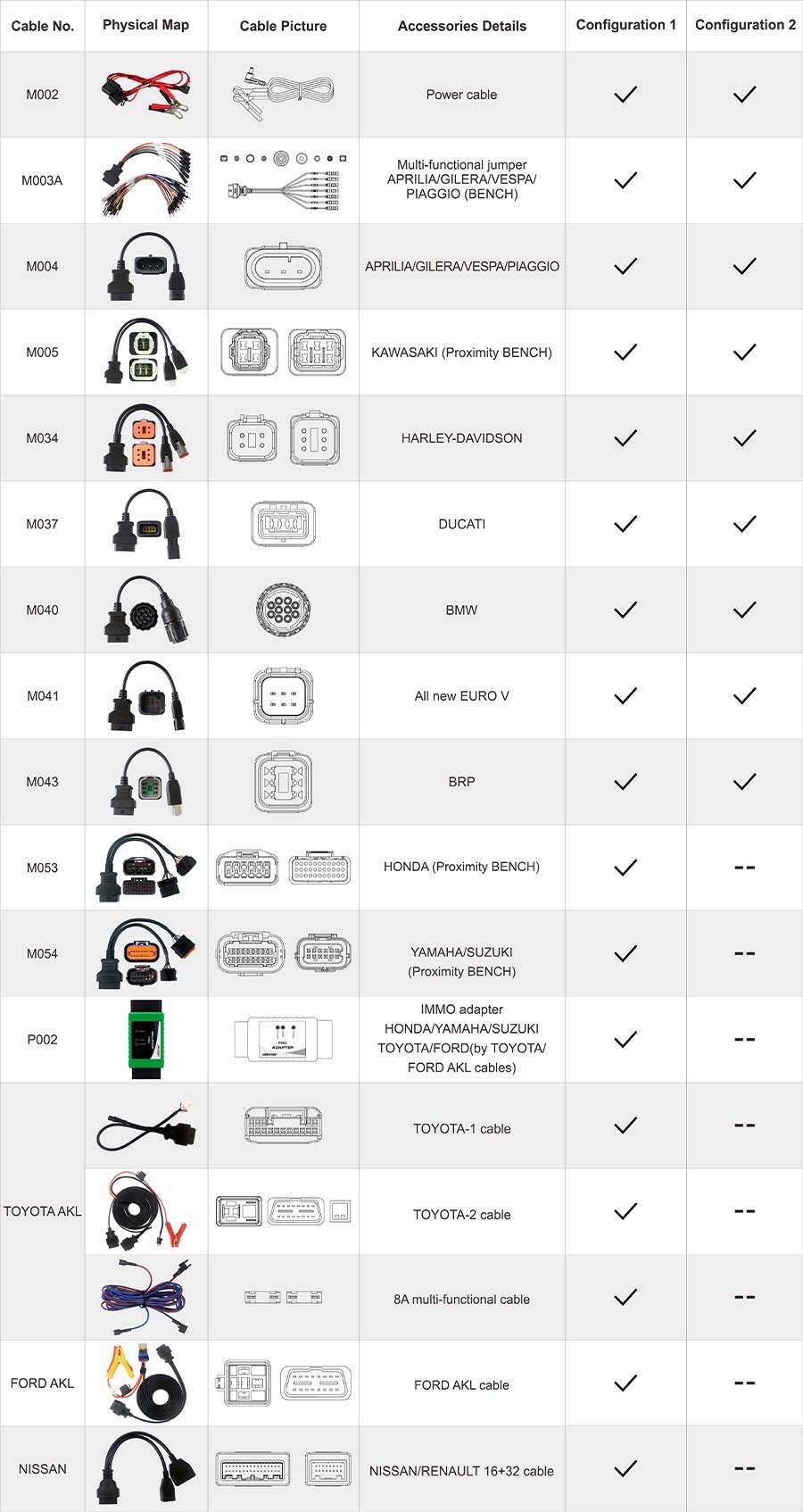 OBDSTAR MOTO IMMO KITS Coverage
Table 1: OBD or BENCH
Remarks: No need for any adapter kit, learn the key directly through OBD
Brand
Model/Type
Type
Year
Learning method
APRILIA

GILERA

PEUGEOT

PIAAGIO

VESPA

ACI100
MC68HC05E6
OBD or BENCH
ACI500/501/502/503/504/505
MC68HC05E6
OBD or BENCH
ACI600/601/602/603/604/605/606
MC68HC05E6
OBD or BENCH
ACI1/AC2I/AC5I/AC8I/AC13I/ AC21I/AC23/AC23
ST7
OBD or BENCH
AC19I/AC20I/AC27I
OBD or BENCH
AC24I/AC25I/AC32I
OBD or BENCH
IAW15
MC68HC11F1
OBD or BENCH
IAW 5AW_HW103/HW610
MC68HC11F1
OBD or BENCH
IMMO 003/IMMO 006
MC68HC05E6
OBD or BENCH
MIU1/MIU2/MIU4
OBD or BENCH
MIU G3
OBD or BENCH
PGN 04
OBD or BENCH
PGS 06
OBD or BENCH
RIU1
OBD or BENCH
BMW
EWS 46transponder(K line)
EWS
ALL
OBD or BENCH
CAN-AM (BRP)
DS
ATV-Quad
2008-2020
OBD
Spyder
Motorcycle(Spyder)
2008-2020
OBD
Maverick
Side-by-side
2013-2020
OBD
Commander
Side-by-side
2011-2020
OBD
Outlander
ATV-Quad
2008-2020
OBD
Renegade
ATV-Quad
2008-2020
OBD
Defender
Side-by-side
2016-2020
OBD
Traxter
Side-by-side
2016-2020
OBD
LYNX (BRP)
Adventure
Snowmobile
2005-2020
OBD
Boondocker
Snowmobile
2013-2020
OBD
Ranger
Snowmobile
2005-2020
OBD
Rave
Snowmobile
2005-2020
OBD
Xtrim
Snowmobile
2008-2020
OBD
Yeti
Snowmobile
2005-2020
OBD
Commander
Snowmobile
2011-2020
OBD
Xterrain
Snowmobile
2019-2020
OBD
SEA-DOO (BRP)
GTX-S
PWC (Personal Watercraft)
2011-2017
OBD
GTI
PWC (Personal Watercraft)
2006-2020
OBD
GTI SE
PWC (Personal Watercraft)
2006-2020
OBD
GTR
PWC (Personal Watercraft)
2011-2020
OBD
GTS
PWC (Personal Watercraft)
2011-2018
OBD
GTX
PWC (Personal Watercraft)
2003-2020
OBD
RXP
PWC (Personal Watercraft)
2004-2020
OBD
RXP-X
PWC (Personal Watercraft)
2008-2020
OBD
RXT
PWC (Personal Watercraft)
2005-2020
OBD
RXT-X
PWC (Personal Watercraft)
2008-2020
OBD
WAKE
PWC (Personal Watercraft)
2005-2020
OBD
WAKE PRO
PWC (Personal Watercraft)
2009-2020
OBD
Spark
PWC (Personal Watercraft)
2014-2020
OBD
Spark Trixx
PWC (Personal Watercraft)
2017-2020
OBD
Fish PRO
PWC (Personal Watercraft)
2019-2020
OBD
SKI-DOO (BRP)
Expedition
Snowmobile
2004-2020
OBD
Grand Touring
Snowmobile
2010-2020
OBD
GSX
Snowmobile
2004-2020
OBD
GTX
Snowmobile
2005-2020
OBD
MX Z
Snowmobile
2004-2020
OBD
Skandic
Snowmobile
2004-2020
OBD
Summit
Snowmobile
2004-2020
OBD
Renegade
Snowmobile
2010-2020
OBD
Freeride
Snowmobile
2011-2020
OBD
Tundra
Snowmobile
2011-2020
OBD
DUCATI
Diavel EU3
IMMO
2011-
OBD
Diavel EU4 (NO USA / CHINA)
IMMO
2016-
OBD
Multistrada 1200
IMMO
2010-
OBD
Multistrada 1200 ABS
IMMO
2010-2014
OBD
Multistrada 1200 D-Air
IMMO
2014-
OBD
Multistrada 1200 Enduro
IMMO
2016-
OBD
Multistrada 1200 Pikes Peak
IMMO
2015-
OBD
Multistrada 1200 S/T
IMMO
2010-
OBD
XDiavel
IMMO
2016-
OBD
HARLEY-DAVIDSON
CVO
BCM
2017-
OBD
DYNA
BCM
2012-2017
OBD
SOFTAIL
BCM
2011-
OBD
SPORTSTER
BCM
2014-
OBD
S SERIES
BCM
2017-
OBD
STREET
BCM
2015-
OBD
TOURING
BCM
2012-
OBD
TRIKE
BCM
2011-
OBD
KAWSAKI
EX250S
SMARTECU
2007-2021
OBD
EX400J
SMARTECU
OBD
ZG1400A
SMARTECU
OBD
ZG1400A/B
SMARTECU
OBD
ZG1400B
SMARTECU
OBD
ZG1400C
SMARTECU
OBD
ZG1400C/D
SMARTECU
OBD
ZG1400D
SMARTECU
OBD
ZG1400E
SMARTECU
OBD
ZXT02P
SMARTECU
OBD
ZXT02R
SMARTECU
OBD
TRIUMPH
SPEED TRIPLE 1050
IMMO
2011-
SPEED TRIPLE  R
IMMO
2012-
SPEED TRIPLE  S
IMMO
2016-
STREET TRIPLE 675
IMMO
2013-
STREET TRIPLE R
IMMO
2013-
STREET TRIPLE R LRH
IMMO
2017-
TIGER 800
IMMO
2011-
TIGER 800 XC
IMMO
2011-
TIGER 800 XCA
IMMO
2015-
TIGER 800 XCX
IMMO
2015-
TIGER 800 XCX LRH
IMMO
2016-
TIGER 800 XR
IMMO
2015-
TIGER 800 XRT
IMMO
2016-
TIGER 800 XRX
IMMO
2015-
TIGER 800 XRX LRH
IMMO
2016-
TIGER EXPLORER
IMMO
2012-
TIGER EXPLORER XC
IMMO
2013-
TIGER EXPLORER XCA
IMMO
2016-
TIGER EXPLORER XCX LRH
IMMO
2016-
TIGER EXPLORER XR
IMMO
2016-
TIGER EXPLORER XRT
IMMO
2016-
TIGER EXPLORER XRX LRH
IMMO
2016-
TIGER SPORT
IMMO
2013-
TIGER XR
IMMO
2015-
TIGER XRX
IMMO
2015-
TROPHY
IMMO
2013-
Table 2. BENCH (SMART KEY)
Remarks: Obdstar P002 kit is required (including 2 BENCH Cables such as YAMAHA, HONDA, SUZUKI, etc.)
BRAND
MODEL
QUICK READ KEY ID
FULL READ KEY ID
READ ECM ID
VIEW THE LATEST ID
REFLASH SCU
READ KEY ID
ERASE KEY ID
RESTORE KEY ID
CHANGE NEW ECM ID
PROGRAM SMART KEY
Adapter
ADD KEY BY KEY
ALL KEYS LOST
REPLACE NEW SCU
REPLACE NEW ECM
ADD NEW FOB
OFF THE MISSING FOB
TEST FOB<–>SCU
HONDA
SH125/SH150
√
√
√
√
√
√
√
√
√
√
P002 kit
SH MODE
√
√
√
√
√
√
√
√
√
√
P002 kit
PCX
√
√
√
√
√
√
√
√
√
√
P002 kit
X-ADV
√
√
√
√
√
√
√
√
√
√
P002 kit
SUPER CUB
√
√
√
√
√
√
√
√
√
√
P002 kit
ADV
√
√
√
√
√
√
√
√
√
√
P002 kit
FOZZA
√
√
√
√
√
√
√
√
√
√
P002 kit
AIR BLADE
√
√
√
√
√
√
√
√
√
√
√
P002 kit
CLICK
√
√
√
√
√
√
√
√
√
√
√
P002 kit
LEAD
√
√
√
√
√
√
√
√
√
√
√
P002 kit
VARIO
√
√
√
√
√
√
√
√
√
√
√
P002 kit
VISION
√
√
√
√
√
√
√
√
√
√
√
P002 kit
BEAT
√
√
√
√
√
√
√
√
√
√
√
P002 kit
SCOOPY
√
√
√
√
√
√
√
√
√
√
√
P002 kit
YAMAHA
AEROX
√
√
√
√
√
P002 kit
GRAND FILANO
√
√
√
√
√
P002 kit
JANUS
√
√
√
√
√
P002 kit
NUX
√
√
√
√
√
P002 kit
QBIX
√
√
√
√
√
P002 kit
XMAX
√
√
√
√
√
P002 kit
T-MAX
√
√
√
√
√
P002 kit
T-MAX DX
√
√
√
√
√
P002 kit
T-MAX SX SPORT
√
√
√
√
√
P002 kit
T-MAX IRON MAX
√
√
√
√
√
P002 kit
NMAX
√
√
√
√
√
P002 kit
FREE GO
√
√
√
√
√
P002 kit
LEXI
√
√
√
√
√
P002 kit
SUZUKI
GSX-R150
√
√
√
√
P002 kit
RAIDER R150 FI
√
√
√
√
P002 kit