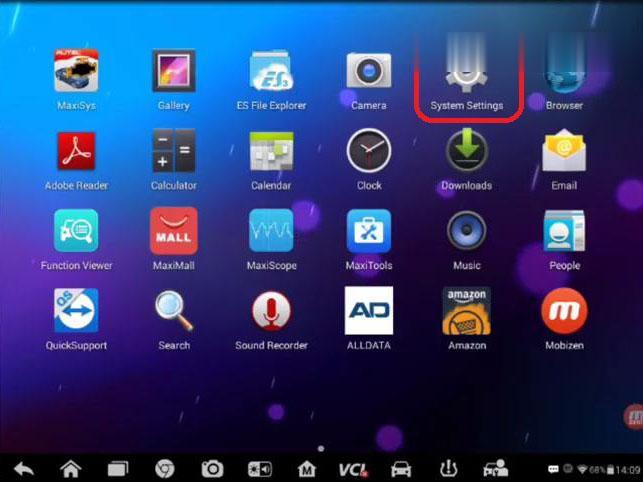 Many customers prefers to buy the Autel MaxiSys Tablet Series like the Autel MaxiSys MS906BT, Autel Maxisys Elite and Autel Maxisys MS908S PRO because of their powerful diagnostic functions, reliable user experience, advanced hardware and stable software usage.
But many customer would face such a situation where the unit screen prompts "Insufficient space on SD card. Please clear the SD card space" when trying to download the new car model and software.
So this article will guide you guys how to tackle this issue with one of the most useful ways. Using this method means to completely wipe out of tool. It's going to delete everything off of the tool including any photos, any customer information, any of your history records that you have on the tool. That means you have to do the backup of the data that you wish to restore.
The method of this article recommended is to reset your tablet back to factory spec and this can be used for many different times in many different ways.
Specific Operation Procedures:
Click on the "Home" button<<"Maxi Tools"
On "Maxi Tools", you're going to see a button that says GC.
THIS IS going through the process of just wiping out some of the temporary folders, trying to freshen stuff up and clean some stuff up.
This will delete the vehicles but it won't delete them all the way. This is more for cleaning the extra stuff of the temporary files from your internet, the pictures, the videos, that kind of thing.
But that's not the exact solution that we are going to teach you guys in this article.
Move back to "Home" screen>> Select "System Settings">> Scroll down the left sidebar and click "Reset" button
You are gonna see the "Factory data reset" on the top. Click on it and enter into an interface that gives you the explanation of what kind of internal files (or data) will be deleted.
We want to erase the SD card because that is the internal memory on the tool.
So select "Erase SD card">>"Reset Tablet"
You're gonna get a warning on your tablet that this move will erase everything on your tablet, including all cars, all manufacturers, everything, just like this came out of the box from the factory.
Please do keep this in your mind:
If you are not under update contract, you will not be able to recover this information, leading to information forever deletion.
So make sure you're under update contract before doing this process.
Let's go ahead to click "Erase everything" to completely wipe out the tool.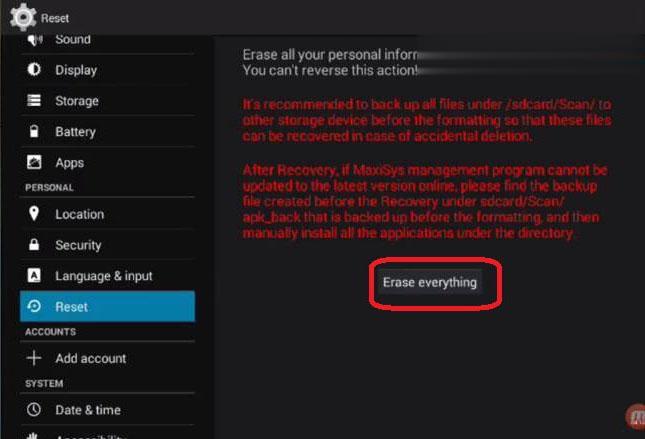 Now we've done the complete reset on the tool. Whenever we go back into the Mac Cesis application you're going to that it says an Internet connection is required because we have completely deleted everything out of the tool.
So let's go ahead and set up or Internet connection by holding down on the Wi-Fi.
Enter the Wifi password to finish the connection.
Go back over to the "Home" screen again<< Click on "Diagnostics"
You will see that all the vehicles and their history downloaded record are gone.
All right. That's click on "Settings" menu and scroll down to choose the "Storage" option.
The storage level becomes 27.7 G available out of the 32G.
Feel so happy to have lots of room to start over.
Now you can start to download the software of diagnostic or TPMS that you wish to update into the tool, not selecting all of them, just based on your personal needs.
Goog luck to you guys!