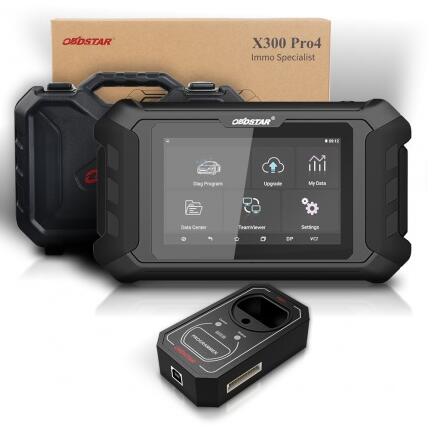 This post comes with the feedback of OBDSTAR X300 Pro4 about what cars can work, what cars cannot work.
X300 Pro4 works list:
Audi:
Audi A4/ A5/ A6/ Q3/ Q4/ Q5/Q7 key programming-ok
Chevrolet:
Chevrolet corolado 2016 program IMMO- OK
Citroen:
Latest shape Citroen C1 2014 Registered car key program- ok
2004 Citroen c2 key program-ok
Ford:
2013 Ford focus all keys lost -ok
2015 Chrysler 200 read pin code-ok
2012 Buick Enclave remote program-ok
Infinity:
2006 infinity g35 4 door sedan-ok
Jeep:
2002 Jeep grand Cherokee Laredo- ok
KIA:
Kia Sportage (China) 2015 2016 smart key program-ok
Land Rover:
Freelander 2, 2008 diesel key programming-ok
Nissan:
2017 Nissan Sentra key programming-ok
Hyundai:
Hyundai Tucson 2017 add key-ok
Renault:
Renault talisman 2017 blank key all key lost-ok
Renault Can Clip tool add Renault models Scenic, Grand Scenic key-ok
Renault Trafic +2014 id47 code key- ok
Vaxhall:
vaxhall astra h mk5 2004 read pincode-ok
X300 PRO4 cannot work:
Clio IV 2018 all key lost-No
2004 Ford C-Max all keys lost- No
2018 Honda Crv all keys lost-No
2009 HE22S Suzuki Lapin all keys lost- No
Q: Does X300 PRO4 contain Key renew?
A: No, it doesn't.
Q: Does x300 pro4 only program the original factory key?
A: No. Other brand keys also are supported.
Q: Can X300 pro4 program Indian cars?
A: Yes, it can.
Q: Does X300 pro4 comes with Toyota simulated smart keys?
A: No, it doesn't include smart card.
Q: Does X300 PRO4 support Chrysler 200 (2015) smart key programming?
A: It supports Chrysler smart key programming in American and Canadian region.
Q: What year does x300 pro4 support on UK ford fiestas?
A: The following car models car supported.
Blade 2003-2012
Blade 2008-2012
Blade 2002-2008
PROXIMITY 2018-
PROXIMITY 2012-2017
PROXIMITY 2008-2012
Q: What European Ford cmax are supported by X300 Pro4?
A: The cmax models below are supported.
BLADE    2015-
BLADE    2010-2014
BLADE    -2011
BLADE    -2010
PROXIMITY    2015-
PROXIMITY    2010-2014
Q: Can x300 pro4 do 4th and 5th generation MQB VW and Toyota g and h chips?
A: It can support 4th above add keys. Only support a part of dash types for all keys lost.
All the G and H chip models of Toyota in Central ASIA and American support adding keys and all keys lost