What is FCOM Diagnostic Software?
FORD VCM is a diagnostic software for Ford vehicle,it It works as well with Ford subsidiaries vehicles such as Mazda, Lincoln, Mercury, Jaguar, but without guarantee of 100% functionality.It can connect to various electronic control units (ECUs) and display identification, read and clear fault code memory, display and record measured values and perform actuator tests.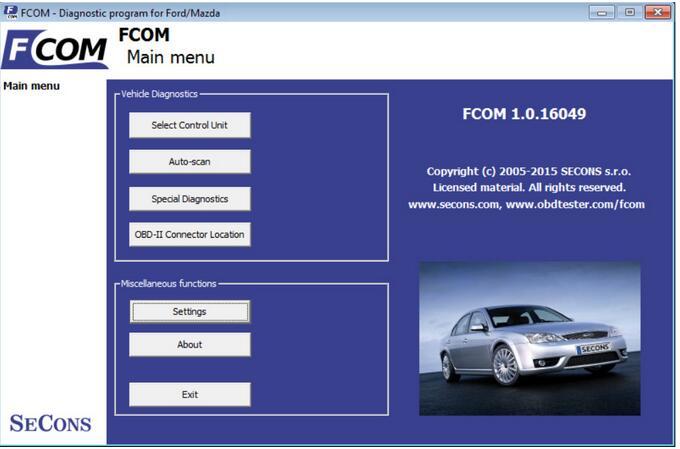 FCOM Functions:
ECU Identification
Fault code (DTC) reading
Fault code clearing
Measured values / live data
Live data recording
Diagnostic protocol printing
Actuator tests
Commands / Coding
Configuration ("Programmable parameters"in dealer tool)
FCOM Features:
Covers for wide range of ECUs and models
Fully multiplexed all-in-one smart USB2.0 interface
Wide range of communication protocols and buses covered incl. J1850 PWM, ISO, CAN
Automatic ECU recognition
Automatic vehicle scan
FCOM Support Languages:
Czech,Croatian,Danish,Dutch,English,German,Hungarian,Polish,Russian,Turkish
FCOM Vehicle List:
Abarth:
Abarth 124 Spider
Aston Martin:
Aston Martin DB7,Aston Martin DB9,Aston Martin Vantage
Fiat:
Fiat 124 Spider
Ford:
Aerostar,Aspire,B-MAX,Bantam,Bronco, C-MAX,Contour,Cougar,Courier,Crown Victoria,EcoSport,Econovan,Edge,Escape,Escort,Excursion,Expedition,Explorer,F-Series,F-series,Fairlane,Fairmont,Falcon,Falcon Forte S,Fiesta,Figo,Five Hundred Flex,Focus,Freestar,Freestyle,Fusion,Futura,GT,Galaxy,Granada,Ikon,Ka,Ka+,Kuga,LTD,Mariner,Maverick,Mondeo,Mustang,Orion,Probe,Puma,Ranger,S-MAX,Scorpio,Taurus,Telstar,Territory,Thunderbird,Tourneo,Tourneo Connect,Tourneo Custom,Transit,Transit Connect,Transit Custom,Tribute,Windstar,XR,XT,i-MAX
Jaguar:
S-Type,X-Type,XF,XJ,XK
Land Rover:
Defender,Discovery 3,Discovery 4,Freelander,Freeland 2,LR2,LR3,LR4,Range Rover,Range Rover Evoque,Range Rover Sport
Lincoln:
Aviator,Blackwood,Continental,Expedition,LS,MKC,MKS,MKT,MKX,MKZ,Mark,Mark LT,Mark VIII,Navigator,Town Car,Zephyr
Mazda:
Mazda 121,Mazda 2,Mazda 3,Mazda 323,Mazda 5,Mazda 6,Mazda 626,Axela,B-Series,BT-50,Bongo,CX-3,CX-5,CX-7,CX-9,Demio,E-Series,MPV,MX-5,MX-6,Premacy,RX-8,Telstar,Tribute
Grand Marquis,Marauder,Mariner,Milan,Montego,Monterey,Mountaineer,Mystique,Sable,Tracer
Volvo:
Volvo 1996-2004,Volvo 2005-2010,Volvo 850,Volvo 940,Volvo 960,C30,C70,S40,S60,S70,S80,S90,V40,V50,V60,V70,V90,XC60,XC70,XC90
FCOM Support Operation System:
Window XP,Window 7,Window 8 and Window 10,GNU/Linux
FCOM Download:
http://www.auto-diagnostics.info/download/FComSetup.exe
FCOM Software uUpdates
Software updates in diagnostic version are available for free. You can download them from
http://www.obdtester.com/downloads. When downloading, type a serial number of your interface as user name. Password leave blank. The serial number can be found in settings of FCOM after performing test interface, or on silver label of the interface. We recommend you to maintain software up-to-data, because updates provides support for new ECUs and fix various FCOM issues.
We also recommend you to update firmware in diagnostic interface every time you update the software. Firmware upgrade process is as follows:
1.Connect your interface via USB to your computer.
2.Go to settings of FCOM and perform test interface.
3.Click on "Apply Changes" button.
4.Click on "Upgrade firmware" button.
Do not disconnect the interface during upgrading the firmware.