What's the difference among Autel full system diagnostic systems, MaxiCOM MK908P, MaxiSys Elite, MS908P and MS908?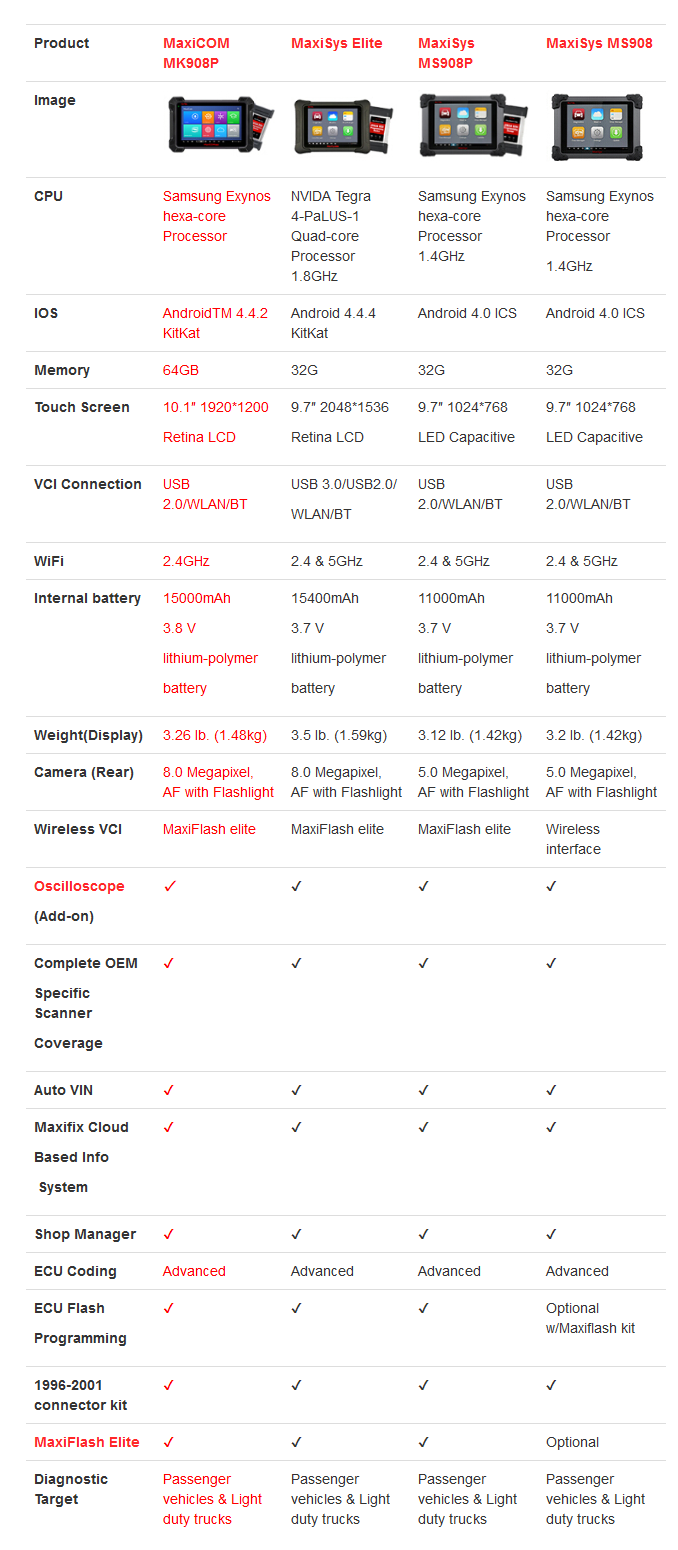 In conclusion:
The MK908P is an upgraded version of MS908P, and the difference between them is that MK908P is equipped with more advanced hardware.
*  Processor: The MK908P is processed by the powerful Samsung Exynos hexa-core Processor (1.3GHz Quad-core ARM Cortex-A7 + 1.7GHz Dual-core ARM Cortex-A15) while the MS908P is using the Samsung Exynos Quad-Core Processor 1.4GHz.
*  Operating System: Diagnostic scan tool MK908P features Android4.4.2, KitKat operating system that is upgraded from Android 4.0, Ice Cream Sandwich.
*  Memory: The MK908P is equipped with 2GB RAM & 64GB on-board Memory, but MS908P only has 32GB on-board memory.
*  Screen Size & Pixel: The Automotive diagnostic scanner MK908P features 101.1 inches LED screen with 1920*1200 resolutions that provides a better user experience than MS908P's 9.7 inches screen with 1024*768 resolutions.
*  Camera: The camera of MK908P is designed to provide a more detailed images using 8.0 Megapixel, AF with Flashlight.
?Battery Capacity: For a tablet diagnostic tool that is equipped with built-in battery, the battery life greatly affects the integrity of the diagnosis and the user experience. Compared to the Autel Scanner MS908P, the MK908P extends the usage time by increasing battery capacity by 4000mAh.