If you own a Mercedes-Benz and are looking to do your own repairs you may have heard about Mercedes Star Diagnostic (SD) scanners C3 Star and Star C4. In this article, we discuss the advantages of Mercedes Star Diagnostic scanner including things that you need to keep in mind before you buy a MB Star Diagnostic scanner. A list of top alternative scanners to Star Diagnostic is included as well. Note that this article is not written to approve or sell any of the scanners mentioned here including Star Diagnostic Scanner. We share our experience and research of diagnostic scanners and hope to help you the Mercedes-Benz owner who are looking to perform your own MB repairs and diagnostics.
Mercedes Star Diagnostic Tool and Software
Let's first explain what Star Diagnostic SD (C3 or C4 SD Connect) tool is for those who may be wondering. This is the diagnostic scanner that is used at Mercedes-Benz dealerships and some auto repair shops. It can also be purchased by independent shops. These scanners include the hardware and Xentry which is the software that is used to troubleshoot the problems in any Mercedes-Benz. Original units can be purchased at STAR Tekinfo which is the official Mercedes-Benz site that offers technical documents, special tool and diagnostic software.
Mercedes-Benz Scanner MB-Star Diagnostic allows you to read and erase fault codes from any control unit in your Mercedes-Benz. With Star Diagnostic scanner you can read the actual configurations in each system, stream real time sensor data, activate sensors and perform SCN online, SCN offline coding and programing.
Mercedes Star Diagnostic for Sale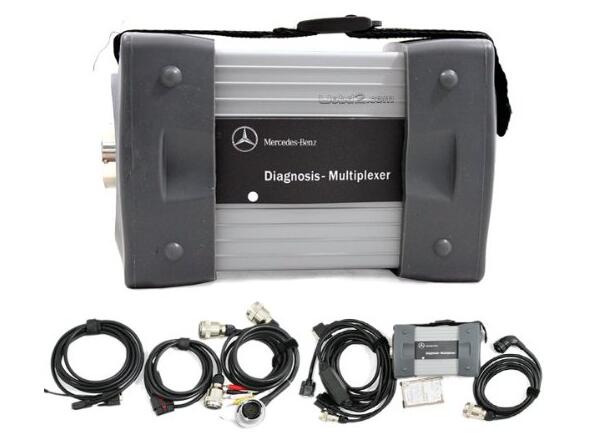 If you search the online resellers you will find Mercedes Star Diagnsotic C3 and C4 listed for sale. You have to be careful when buying online as many of these units may  not be original.
Advantages of Star Diagnostic Scanner
This scanner is used by the dealer and it allow you to access and troubleshoot any system or control system in your Mercedes-Benz. Activate any sensor in the car, perform initiation test, stream live sensor data and also read and clear fault codes. If you own a shop who focuses on Mercedes-Benz cars then this is a must for you. Get it via official channels so that you can perform online SCN coding. All MB SD control units are accessible, like engine ECU, ABS, Airbags, SRS, Aircon, Immobilizer, Keyless Entry and the rest of 40+ control units used in MB cars. You can Read / Delete Faults, Live Data, perform sensor actuation, read current configuration, initialaztion and a lot more.
Things to consider before you buy one!
If you are looking to purchase a Star Diagnostic System with Xentry for Mercedes-Benz there are a few things you need to consider OBD2TOOL.
Learning Curve: In order to use the diagnostic scanner properly you need to learn how to use the Xentry software. While reading, clearing fault codes is not very difficult anything besides that requires that you have proper training. Yes, you can find a few guides online on how to perform certain programming using Xentry but if you don't perform the programming accurately you may end up causing more problem than you solve.
Consider Genuine Scanner: The only problem is that they are quite expensive and require a yearly license. If you are considering to buy a clone of the scanner made in China keep the following concerns in mind.
SCN Online Coding: Unless you buy the scanner from the official Mercedes-Benz source, you will not be able to perform SCN coding of control units. That's because Mercedes Star Diagnostic scanner will try to connect to Mercedes-Benz database for verification of SCN code in order to program certain control units. That is not possible unless you have purchased a valid license. With that said there may be some basic coding and programming of control units that can be done but this programing can also be performed with other advanced scanners.
Mercedes Star Diagnostic Problems with Software (Xentry) VM Ware Installation: All the setups that you see for sale that state that they use VMware environments are not legitimate hardware and software. Besides the fact that these scanners are not legal copies, they are also prone to crashing and run much slower than direct Windows installations. Yes, you are required to have a Windows XP with a serial port for the MB Star Diag C3 scanner. Many VMWare Mercedes Star Setups experience problems some of which you can see posted on this site: MB SD C4 C3 problems and solutions.