Why MB Star Diagnostic tool is so well-received by thousands of users, its technology and quality is developed after lots of experiments and improvement. Recently, we mbstar shop website provide a new Star diagnosis bundle, Mercedes BENZ C5 2015.09 Star Diagnosis with EVG7 DL46/HDD500GB/DDR2GB Diagnostic Controller Tablet PC.
What is WIS? WIS is one of Star software containing all the information of maintenance and repair of vehicles Mercedes Benz manufactured from 1985 to 2015 and Smart, including touring cars, all terrain, light and heavy vans, trucks, buses and Unimog in all versions. benz c5 Xentry Connect is the upgraded version of benz c4,the function of the two tool are similar,benz c5 Xentry Connect is more stable than benz c4 and its genuine software was bought in Russia, Auto key Programmer Benz C5 XentryConnect works in NEW Mercedes-Benz System with favorable price,we also named MB STAR C5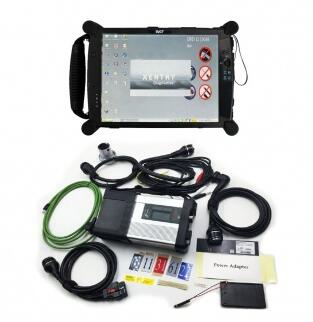 Top 6 reason to get BENZ C5
1.100% Genuine scanner from ACTIA Company.
2. Xentry C5 support Mercedes newest hybrid W222 with DoIT protocol
3. Support vehicle makes: Mercedes-Benz, Smart, Maybach and Mitsubishi
4. Online update free for one year
5. Connection: Wireless connection via 1000M workshop switches & wired connection.
6. Full access to vehicles' Engine / Transmission / air conditioning/SRS/ABS/ anti-theft system and OBD-II system.
The Benz C5 Connect on www.cnautotool.com multiplexer comes with Panasonic Win 7 Xentry-Tab and 2015.5V DAS/XENTRY SSD.